Shopping Cart
Your Cart is Empty
There was an error with PayPal
Click here to try again
Thank you for your business!
You should be receiving an order confirmation from Paypal shortly.
Exit Shopping Cart
California School Fiscal Services
Providing comprehensive business office and consulting services to K-12 traditional schools and charters
| | |
| --- | --- |
| Posted on October 5, 2015 at 1:45 PM | |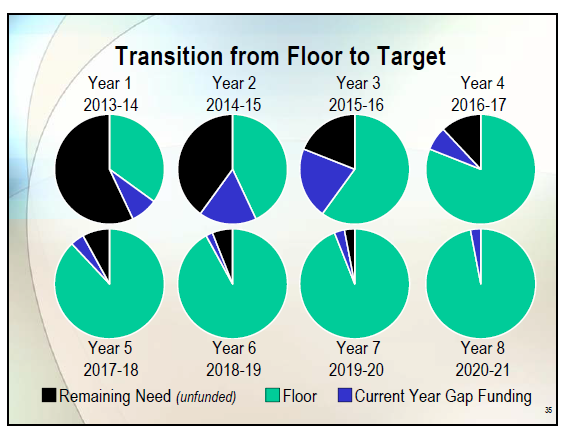 *Slide provided by FCMAT
I recently attended a workshop on LCFF and this slide was part of the presentation.  I have  pulled it out of the longer presentation and used it several time since then.  This prompted me to share it with all of you with a little commentary.
Take a look at portion of the pie in blue named "Current Year Gap Funding".  This is really the focus of this slide.  Notice that the size of those blue slices were pretty large from 2013-14 through 2015-16.  Also, notice that in the future years, the size of those blue slices get increasingly smaller.  What does this mean for us?
Here's the important take-away:
1.  First, remember that there is no guarantee that we are going to receive any of this funding in the out years.  These are projections that require a state budget is passed each year.  This is Governor Brown's vision for the 8 year roll out of LCFF.  He won't be the Governor through 2020-21.
2.  Second, let's assume that you ignore the reality of #1 and believe that our future years will roll out exactly as laid out on this slide.  Even if that is true, it is critical to remember that as we move closer to our target funding, the gap gets smaller.  That means that we are not going to get these large year over year increases.  
I see districts rejoicing that schools have increased funding.  Negotiations are alive and well again.  We are all so happy to have the Great Recession behind us.  However, don't been fooled or lulled into the false belief that our funding will continue to rise at the same rate as it has since the advent of LCFF in 2013-14.  It won't and it was never designed as such.
Smart USC graduates and CBOs understand this and are making it part of their common language!
Categories: LCFF
/